Erster Trailer zum Warcraft-Film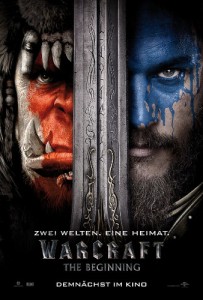 Gestern hat die diesjährige Blizzcon begonnen und passend dazu veröffentlichte Blizzard den ersten Trailer zum kommenden Warcraft-Film.
Der Kampf Menschen gegen Orks beginnt in der Verfilmung der Strategiespiel-Reihe Warcraft und des Online-Rollenspiels World of Warcraft von vorne. Im Warcraft-Film tauchen einige für Fans bekannte Charaktere wie Anduin Lothar, Durotan oder Medivh auf.
Ein Aspekt des Films von Moon-Regisseur Duncan Jones, ist nach Aussage der Macher, die Vermenschlichung der Orks. Im Gegensatz zu vielen anderen Fantasy-Filmen, soll sich die Geschichte auf beide Seiten beziehen und auch das Leben der Orks zeigen. Dieser Ansatz passt zu den Spielen, in denen die Orks ebenfalls zentrale Figuren und keine einfachen Bestien sind.
Zum Cast gehören unter anderem Travis Fimmel (Ragner in Vikings) als Anduin Lothar, Ben Foster (Lone Survivor, Six Feet Under) als Medivh, Paula Patton (Mission Impossible: Phantom Protokoll) als Ork-Frau Garona, Toby Kebbell (Koba in Planet der Affen: Revolution, Fantastic Four) als Durotan und Dominic Cooper (Howard Stark in Captain America: The First Avenger und Agent Carter) als König Llane Wrynn.
Deutscher Trailer auf YouTube.