Neuer Veröffentlichungstermin für Danmachi Vol. 1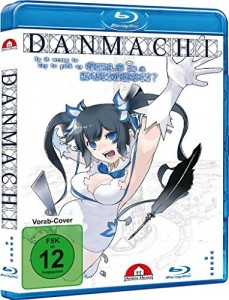 Danmachi – Is It Wrong to Try to Pick Up Girls In A Dungeon? Vol. 1 verspätet sich. Anime House hat eine Verzögerung der Anime-Serie um vier Wochen bekanntgegeben.
Ursprünglich sollte das erste Volume von Danmachi – Is It Wrong to Try to Pick Up Girls In A Dungeon? Ende Februar erscheinen. Durch die von Anime House verkündete Verschiebung müssen sich Anime-Fans nun bis zum 25. März gedulden. Dem entsprechend verzögern sich auch die nachfolgenden Volumes.
Die als "Anime mit Hestia" bekannte Serie handelt von Nachwuchsabenteurer Bell Cranel, der hofft in einem Dungeon seiner Traumfrau zu begegnen. Als das tatsächlich passiert, kann er sie allerdings nicht beeindrucken, sondern muss von ihr gerettet werden.
Erscheinen sollen die 13 Episoden der Fantasy-Comedy-Serie auf vier Volumes, von denen sich drei auf der ersten Disc finden. Anime House legt Danmachi als Blu-ray und DVD mit deutscher und japanischer Synchronisation sowie deutschen und englischen Untertitel auf. Außerdem erhält Volume eins ein Wendecover ohne das FSK-Logo, ein 16-seitiges Booklet, Postkarten sowie Karaoke-Videos und Trailer.